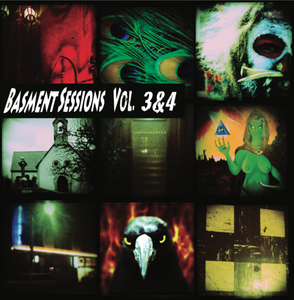 Basment Sessions Vol. 3 & 4 Presale
Capacitor Records

has announced the long awaited and much 
anticipated

Basment

Sessions

Vol. 3 & 4.  Coming April 1st... 
this ain't no April Fools joke!
 
The Seattle based collective released it's debut "Volumes 1&2" 
in 2013, and is following up with their second release to include 
13 new tracks.  Conceived in West Seattle, Basment Sessions 
are devoted to "making music, eating barbecue, and fine, fine 
tequila".  Johnny G, the mastermind behind the Basment 
Sessions, has revealed that the new album will follow in the same 
footsteps.  Some of the artists included in this release include 
Matt Pike (High on Fire, Sleep), Bubba Dupree(Void), 
Jack Endino (Skinyard, Kandi Coded), Chris Johnsen(Zeke) and 
Dan Matthews(

The Black Clouds

), among many others.  All songs 
are written on the spot by whomever is present, and are completed 
in a single day. They come together cohesively in their hard-rock 
edge, but vary greatly in style. The tracks are built continuously 
around Johnny's hard hitting drumming, and include legendary 
Seattle hard rock, punk and folk talents while crushing through 
all 13 tracks.
 
Basment Sessions Volumes 3&4 will be released on April 1st at 


Substation in Seattle

, playing alongside The Derelicts, The Black 
Clouds, and the Stuntmen.

 Click here for advance tickets.


 
The album is being released on translucent green vinyl and CD 
via the

Capacitor Records website

as well as digitally through

all 




major

vendors. 
---