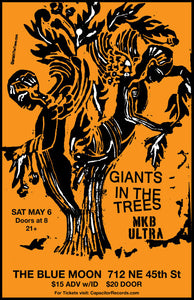 Tickets available now for Giants in the Trees & MKB ULTRA
Capacitor Records is helping some friends in Seattle with the ticketing for an upcoming show.  Get yours now while they are available.
Who's playing:
Giants in the Trees are a Rock Band hailing from Wahkiakum County, Washington. The quartet is inspired by the environment and culture of the Lower Columbia River. Musicians Jillian Raye, Erik Friend, Krist Novoselic and Ray Prestegard have created a sound that could best be described as Pop / Rock. The band is not offended by terms like schmaltz. On the other hand, there are heavy groove numbers, screaming slide guitar and accordion. There is even an anthem—so raise your arms with the phone flashlights.
MKB ULTRA's self-titled debut album is a slice of thickly-grooved
MC5-&-PFunk-inspired psych-rock, recorded at The Soundhouse by legendary engineer Jack Endino (The Groundhogs, The Grannies, The Gits, The No WTO Combo, Kultur Shock).
It's a journey to the center of your favorite conspiracy via melody, harmony, driving rhythms and sonic calamity.
Vote with your mind! Resistance is fertile!
---